Get ready for AR glasses with the Magic Leap One Creator Edition
The Magic Leap One release date has finally be revealed, at least if you're willing to test out the "Creator Edition" of these augmented reality (AR) glasses.
It's the future of wearables, smartphones and computing, according to the Florida-based Magic Leap, and it's all distilled into funky-looking AR glasses strapped to your face.
What's it like? Well, take the virtual objects you see in a VR headset and break down the wall so that you can see what's in front of you. That's the concept behind AR or "mixed reality."
[Update: The Magic Leap One price is coming into focus: it will cost as much as a high-end smartphone, to start. Magic Leap president and CEO Rony Abovitz didn't shy away from a price comparison with the iPhone X, which costs $1,000 or £1,000. What's more, expect the Creator Edition price to be even higher – it'll be somewhere in the range of the Microsoft HoloLens price of $3,000 or £2,719.]
There's more to the Magic Leap One prototype than meets the eye. It consists of Lightwear glasses, a Lightpack computing platform and a remote. This is way more involved than Google Glass for 2018.
There's still a lot of mystery to Magic Leap. Let's explore your AR future.
Magic Leap One release date
Magic Leap One will launch in 2018, according to the company, though it failed to go into any more specifics than that in its recent Rolling Stone reveal.
It's been a long time coming considering the fact that Magic Leap has been in development for five years now, with nothing but conceptual ideas to show.
Clearly investors believe in the timeline behind Magic Leap. It's attracted hundreds of millions of dollars from companies like Google and Alibaba.
We'll continue to track the Magic Leap release date as we all get closer to donning the first developer AR glasses in public.
Magic Leap One price
If you were holding out for a low price, you might want to sit down. The Magic Leap price will be similar to a "higher-end mobile phone to higher-end tablet" for the cheapest version.
This is according to Magic Leap CEO Rony Abovitz, who revealed this information in an interview with Recode in February. Abovitz didn't object to the Magic Leap price being compared to the iPhone X, which costs 1,000 or £1,000 to start.
And that's just for the Magic Leap starting price. The CEO said the Creator Edition will be priced somewhere in the range of the Microsoft HoloLens, which is $3,000 or £2,719.
The justification for this high price? Magic Leap One is meant to replace many devices, not just, say, a smartphone, thus saving you thousands in the long-run. By comparison, the Google Glass price was $1,500 (£1,000, about AU$1,956), and it promised less.
The future is often exciting, and also more times than not very expensive. Also, Magic Leap doesn't have many competitors in the AR glasses space, so it's free to set its own price. The question is: will developers and consumers be buying?
How to buy Magic Leap One
When Magic Leap One: Creator Edition does go on sale, there's a good chance you'll fit into one of the categories they're targeting.
So far, creators include developers, brands, agencies and even early adopter consumers, according to Rolling Stone, comparing the glass's potential audience to the sort of people who bought the first iPod.
In other words, this developer kit won't be limited to the developer community. It's going after consumer content creators, too.
Lightwear goggles
Magic Leap One is more than just a pair of AR glasses with a camera on it (see: Snapchat Spectacles and its less-than-a-year popularity span).
"It's what we think of as spatial computing. It has full awareness," according to founder Rony Abovitz in the Rolling Stone piece. Think Microsoft Hololens, but with a slightly larger field of view.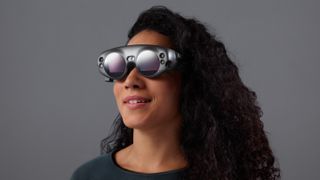 How does Magic Leap One work? It uses lightfield photonics to generate digital light at different depths and blend seamlessly with natural light to produce lifelike digital objects that coexist in the real world.
In other words, it's supposed to fool your brain into thinking the virtual objects set against real-world environments all look natural. That's going to make it more comfortable to wear the Lightwear goggles for a longer period of time.
Magic Leap is particularly working on expanding the field of view in its glasses and determined to make it comfortable to wear. Even if the bulky AR glasses look a bit awkward, they should feel good wearing for a few hours.
Lightpack computing platform
Not all of Magic Leap One is contained in the Lightwear goggles. The computing power is relegated to a Lightpack that fits in a pocket or, if you really want to look uncool, it can be clipped to a belt.
But you can't get away with using Magic Leap One without this spatial computing platform. While the company isn't talking about CPU and GPU chips, this disk-shaped "computer"  is where the high-powered processing takes place.
It does have a cable, but at least you're not tied to a computer or a backpack VR kit, like we've seen from other high-end virtual reality headsets.
Controller
Interacting with the new, virtually overlain world around you is done through rather traditional means: a familiar-looking motion controller.
Control – what Magic Leap is calling its controller – is a remote that contains buttons, six-degrees of freedom motion sensing and a touchpad. There's also haptic feedback, according to the official Magic Leap website.
The remote-shaped controller appears to be very similar to what we've experienced on Samsung Gear VR and Google Daydream headset controllers.
The AR future is now
Magic Leap content ranges from games to music experiences to Oculus Connect-like digital collaborations so far, and these are being billed as "just a jumping-off point" for creators.
The company wants you to be able to pull the web out of the screen, with 3D virtual objects and be able to open up multiple screens on demand.
That long-sought-after goal of a Minority Report future may be within our grasp in 2018. Whether or not Magic Leap One can deliver that remains to be seen. But we're at least a whole lot closer to that exciting (augmented) reality.
via Matt Swider at techradar
https://precept.it/wp-content/uploads/2018/02/Magic-Leap-One-release-date-price-and-features.jpg
545
970
Steve Marr
https://precept.it/wp-content/uploads/2019/03/precept-it-PNG-transparent-300x87.png
Steve Marr
2018-02-15 10:28:09
2018-02-15 10:28:09
Magic Leap One release date, price and features