And the greatest innovation in TV is…
It's like plasma Vs LCD all over again. From nowhere a year ago, Samsung's QLEDTVs are suddenly everywhere.
But does QLED represent the current peak of TV technology – as many people appear to think – or does it just get more of an advertising push? Is OLEDtechnology – supported by almost all other TV brands – the real deal?
If you hate acronyms and having to choose between their meaningless-ness, this is what you need to know about both TV technologies – what they are, how they differ, and which brands support them.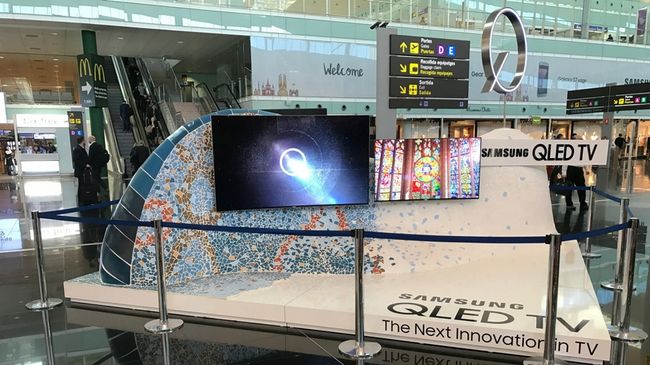 Samsung has been aggressively promoting its QLED brand
What is OLED?
The battle between QLED and OLED is best summarised in one sentence: QLED is a mis-termed tweak of existing LCD technology, while OLED is a completely different technology. The key phrase is 'self-emissive'. OLED – which stands for Organic Light Emitting Diode – uses a carbon-based film between two conductors that emits its own light when an electric current is passed through.
Since the pixels themselves are producing the light, when they need to be black they are switched-off completely. That means no chunky LCD backlight, remarkably realistic blacks,  so-called 'infinite' contrast,  lightning-quick refresh rates and a muted brightness ideal for movies. Watching an OLED TV for the first time will give you that rare feeling of having just witnessed something really very special.
 OLED PROS AND CONS
Pros:
Lighter and thinner (2.57mm)
Self-lighting pixels
More convincing blacks
Faster refresh rate (0.001ms)
Judder and blur-free
Cons:
Only found in three screen sizes: 55, 65 & 77-inch
Muted brightness (1,000nits)
Expensive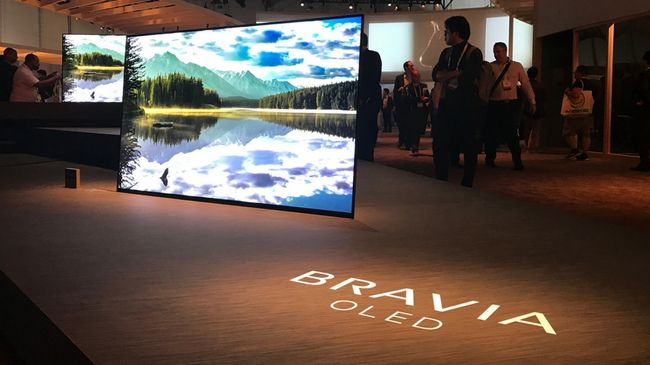 Sony has embraced OLED
What is QLED?
In a lot of ways, QLED is meaningless marketing. Until last year Samsung called its flagship TVs SUHD, but that didn't fly, so it's now called them QLED. Yes, it sounds very, very similar to OLED, which suggests either a decision to muddy the minds of the TV buying public, or an inferiority complex. Or both. In fact, QLED – which stands for Quantum-dot Light Emitting Diode – is very different to OLED.
The weirdest thing is that QLED TVs are not QLED TVs. A QLED TV should be just like an OLED TV in having a panel that's self-emissive, so that it can switch individual pixels on and off. Samsung's QLED TVs can't do that, and in fact just put a quantum dot colour filter in front of an LCD backlight. It's premature to call them QLED, and they should really be called QDCL-LEDs.  Thankfully, not even the acronym-riddled TV industry could live with that.
The inorganic quantum dot light-emitting diodes in a QLED panel do not emit their own light, but instead are illuminated by a backlight, just like any LCD TV. That's why they're not a thin as OLED TVs.
So, really, it's not a next-gen display technology at all, just a tweak to LCD TV tech. However, that doesn't mean it's not impressive – it really is very good.
QLED PROS AND CONS
Pros:
Brilliant whites
Ultra-bright (1,500nits)
Variety of screen sizes between 49-88-inch
Cons:
Not as slim (25.4mm)
Overly bright
Less convincing blacks
Slower refresh rate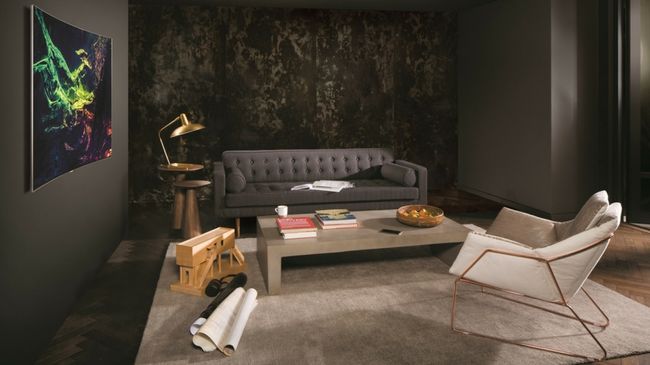 Which brands support OLED & QLED?
"More than 10 brands, from a variety of countries and backgrounds showed OLED sets at IFA 2017," says David Tett, Market Analyst at Futuresource Consulting. "However, QLED was only on display by three vendors." The battle between OLED and QLED is a story about branding, and it's also about a South Korean rivalry. Every single OLED panel found inside every single OLED TV is made by LG Displays, and every single QLED panel is made by Samsung.
Team OLED: 
Most TV brands are lining-up behind OLED, believing it to be the superior technology for picture quality. It's hard to disagree, but despite LG, Sony, Panasonic, Phillips, Loewe, Bang & Olufsen, Skyworth, and ChangHong all now selling OLED TVs, they do tend to be very expensive. The maker LG Display just can't produce enough OLED panels fast enough to bring them in at a lower cost, which is making OLED TVs seem like a top-tier premium TV technology only.
Team QLED: 
Samsung abandoned its efforts to make OLED TVs in 2014 due to low production yields, and in 2017 has been talking about QLED. It's trying to popularise the technology by getting other companies involved.
Though the brands behind QLED are fewer, they're quickly getting Unionised. "Samsung, Hisense and TCL formed the QLED Alliance in April 2017 to work together to progress QLED development and fight the increasing use of OLED panels in TV sets," says Tett.
The QLED Alliance is mostly about trying to shift more TVs in China, the world's biggest TV market.
https://precept.it/wp-content/uploads/2017/12/OLED-vs-QLED-the-battle-of-the-TV-tech-titans.jpg
506
900
Steve Marr
https://precept.it/wp-content/uploads/2019/03/precept-it-PNG-transparent-300x87.png
Steve Marr
2017-12-04 11:05:00
2017-12-04 11:05:00
OLED vs QLED: the battle of the TV tech titans